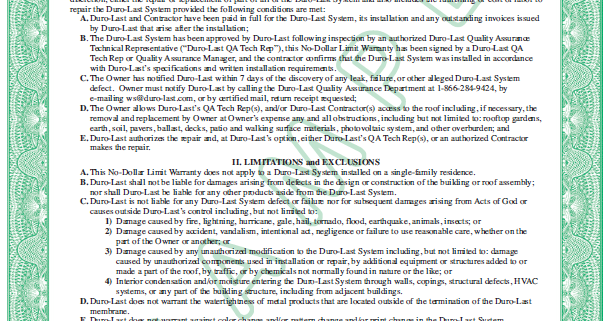 Why Read the Warranty? Warranties are boring.
No big surprise here right? As boring as they are, the roof system and the warranty are all that's left after a roofing crew leaves your job. It's imperative to understand the warranty. Let's talk about the Duro-Last Warranty and what makes it the best in the roofing industry.
The standard warranty covers consequential damages. This means if you experience a roof failure due to workmanship or labor, Duro-Last will cover the damages, floor to ceiling.
Second, it doesn't disclude for ponding water. You aren't on your roof every single week, so no worries if you experience ponding water, you're covered.
Lastly, Duro-Last requires zero maintenenace. Some warranties require you to have inspections on your dime, Duro-Last does not.
https://awsroof.com/wp-content/uploads/2018/04/warranty.png
809
611
Abby Brown
https://awsroof.com/wp-content/uploads/2020/03/aws-300x237.png
Abby Brown
2018-04-18 07:14:39
2018-04-18 07:14:39
Roof Warranties