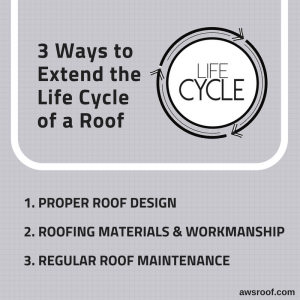 By now you may have heard that a roof is only as good as the roof material. Or the roof is only as good as the crew that installed it. Both are correct.
First, a proper roof design is essential to the roof lasting long-term. Not having proper water flow for example can be detrimental as ponding water can have an ill effect on some roof membranes.
Using the proper materials for the roof is also essential. Say you have a restaurant, you won't want a black rubber roof as the animal fats and grease that is exuded through the vents will eat through the membrane.
Workmanship is extremely important. How skilled is the roofing crew working on your installation? Are they trained in half a dozen different roof systems or are they extremely proficient in just one or two?
And then, there is regular roof maintenance. If you've just invested money in all the previously mentioned areas, why wouldn't you want to maintain the roof system? Catching issues or even potential issues while they are a quick and easy fix is always going to be less expensive than having to prematurely replace a roof section.
All Weather Systems can expertly design a roof system that fits your unique roofing situation. We can produce CAD drawings and walk you through the plan. We use the best single ply roofing membrane on the market and our crews install this roof system on more than 90% of the jobs we complete. We can confidently label ourselves experts.
Our service doesn't end with the completion of the installation, we will stay in contact with you to ensure complete satisfaction. We'll also propose a maintenance follow up plan to help you stay on top of things as we go through the seasons of Ohio's weather.
Call All Weather Systems for a Free Quote. (740) 323-3174
https://awsroof.com/wp-content/uploads/2020/03/aws-300x237.png
0
0
Abby Brown
https://awsroof.com/wp-content/uploads/2020/03/aws-300x237.png
Abby Brown
2018-08-23 06:40:53
2018-08-23 06:40:53
3 Ways to Extend the Life Cycle of a Roof